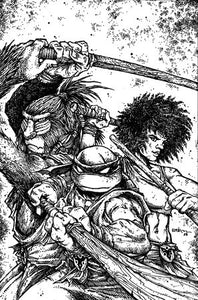 Teenage Mutant Ninja Turtles #143 1:50 Eastman/Campbell variant 9/20/23
 Book releases 9/20/23
 Dr. Barlow holds a member of the Claw Clan hostage! Alopex has run out of options, and she can't take on Barlow alone. Forced to seek the aid of the TMNT—whose friendship she renounced after they forged an alliance with the Shredder—Alopex forms an uneasy truce with the Turtles, one that is put to the test when they must work together to bring Barlow to justice. Meanwhile, Leatherhead gets a new perspective on the consequences of his work enforcing Barlow's plans.
Please Note:
You are billed for your pre-ordered items at the time of purchase.  Due to the nature of collectibles, we cannot accept cancellations on pre-ordered items.  Please review your order carefully before checking out.
If you order multiple items as part of the same order, please be aware that your order will not ship until all of your items are available.  If you would like your items to ship as soon as possible, please consider making a separate order for items that are not yet available (pre-orders).
Books may be delayed by publisher, or delayed due to printer or shipping errors.  Cancelations will still not be accepted under these circumstances
Due to high demand, it may take up to a week after the release date to finish shipping all orders for this book. 
Signed copies may take up to three additional weeks to ship.
Copies are guaranteed NM- 9.2 or higher. We do not guarantee 9.8 or better copies.
---
We Also Recommend